The Caribbean Area Squash Association (CASA) is the official and acknowledged squash authority in the Caribbean. CASA oversees and assists in the coordination of both Junior and Senior tournaments, each with individual and national team categories. Only "Caribbean" players and national teams that qualify as such can take part in these events.
2016 Junior Pan-American Championships

The FPS Junior Pan American Squash Championships (i.e. U-19) are provisionally scheduled for August 22-29th at Drexel University in Philadelphia, PA, USA.
XIV Senior Caribbean Championships Open 2016
XXXIV Junior Caribbean Championships Open 2016
BTMI Barbados Open 2016 – PSA M5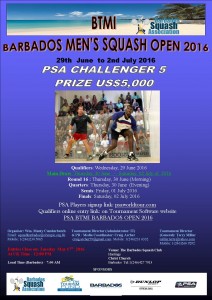 British Virgin Island Open 2016 – PSA M5
SPIN (Squash Personal Identification Number)