Barbados are the Caribbean squash champions for the third successive year.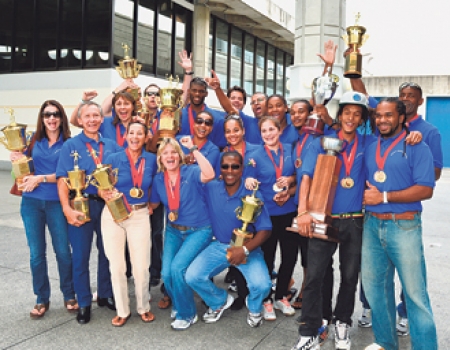 All three Barbados teams won their respective ties on the final day of the 20th annual Caribbean Squash Championships at the Cascadia Squash Courts in Trinidad on Saturday.
Two of those ties were finals as the women's team and the veterans' squad both retained their team titles, while the men's team finished third, one better than last year.
In the tense women's final, the No. 2 seeded Barbados toppled the top ranked from Guyana 4-1, with three of the matches going the full distance to five games.
Fifteen-year-old Gylla Mackenzie, playing on the senior Barbados team for the first time, defeated Tiffany Solomon 3-2 to start the ball rolling for Team Barbados.
Nadia McCarthy played the match of her life, and saved three match balls in the fourth game before taking that game to a tie break against Guyana's Victoria Arjoon before confidently taking the fifth to win 3-2.
In the No. 1 string position, Guyana's Caribbean individual champion Nicolette Fernandes pulled one back by defeating Barbados' Karen Meakins three straight games in a repeat of the individual final.
Alex Jordan sealed the victory for Barbados by confidently outplaying Guyana's Ashley DeGroot 3-1.
Cheri-Ann Parris put the icing on the cake by overcoming reigning Caribbean Under-19 champion Mary Fung-a-Fat 3-2.
The Barbados Vets team pulled off a close 3-2 victory over Trinidad and Tobago while the men's team comfortably defeated the OECS 4-1 to place third.
In the overall team championships, Barbados placed first for the third successive year, with Trinidad and Tobago placing second and Guyana third.
Trinidad and Tobago won the men's team final, defeating Guyana in a pulsating contest.